News & Updates
Here you can find details of server news and updates.
---
Server BETA launch
Posted 16th Feb 2019

Version 1.0 of the server is due to launch April 2019. Please see the forums for more details.
---
Head over to the forums to discuss updates and get involved with the community.
Version 6.9
Version 6.9 is finally here! Please see below for a list of changes in this update.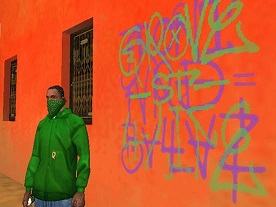 New Features:
New Firefighter mission added: Rescue citizens from burning vehicles.
New 'Police Patrol' mission added. Can be started from any Police Department.
Added /flare to place a flare and signal your position to other nearby players.
Added singleplayer-styled gang tags which can be sprayed over (see image to right). Find them all for a reward!
Changes:
As a cop, arresting a player with a bounty will no longer remove their bounty. They will still have it inside prison.
Players can no longer use vending machines to gain free health.
Bug Fixes:
Fixed a bug where players were spawning with a different skin to what they should have.
Fixed issues with players losing their personal weapons.
Fixed some issues with the house and property system which made the prices incorrect.
Altered the speed at which a vehicle vs pedestian collision will kill the pedestrian to prevent glitches when players bail from a vehicle at high speed.
For a full changelog for version 6.9, please click here. Thank you for everyone on the BETA team which helped to test this version!
---
Version 6.8.4
Version 6.8.4 is a small security update.
Changes:
Changed the password hashing algorithm to a more secure one to ensure the best possible security of user data.
Stay tuned for a major update some time next month. Many long-requested features and fixes are on the way!